A Spicy
Holiday
by day at sea at night in the square.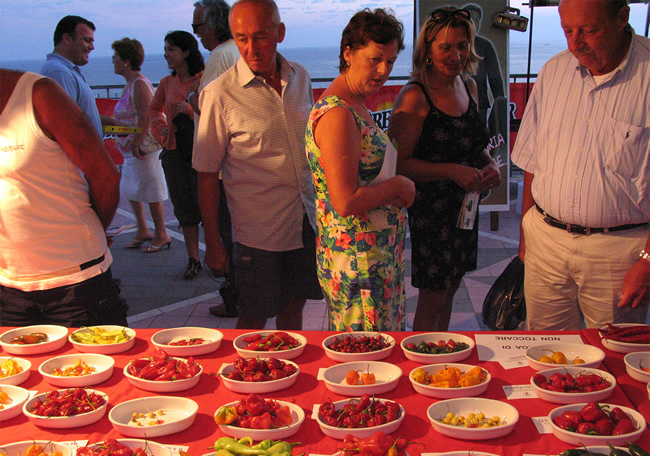 The Event
The Festival del Peperoncino, which takes place each year in September, concludes the eventful summer program. During the festival the fascinating city of murals becomes natural scenery and perfect "frame", theater and stage. The Festival is not only a gastronomic event, but it is also a cultural event, with exhibitions "Eat in the Mediterranian way", "Spicy Laboratories", "Cabaret", "Review of Hot Cinema", presentation of books dealing with this subject, awarding the best thesis of degree based on chili and even medical conferences. Are important the national championships of Live Satire and Chili Eaters, the latter consists in eating raw and shredded chili, with the possibility to eat with it only bread and olive oil, there is also the ban on moving from the seat. The winner is the competitor that, in thirty minutes, eat more chili than everyone else. The creator of the Festival is the journalist Enzo Monaco who had the idea in the early nineties, on the occasion of the fifth centenary of the America's discovery. He involved soon some friend in his project, which began perhaps only as a game, but immediately received unanimous approval and assent. Over the years, this spontaneous initiative became an institutional event, with scientific studies and exchange of experiences, exported in Italy and abroad. So the chili as never before, has become the gastronomic symbol of the Citron Riviera and of whole Calabria.
For information about the event visit the site www.peperoncinofestival.org.
The date for appointment 2021 is from 08 to 12 September.