Peperoncino Jazz
Festival
Calabria with the Music, Enogastronomy and Culture.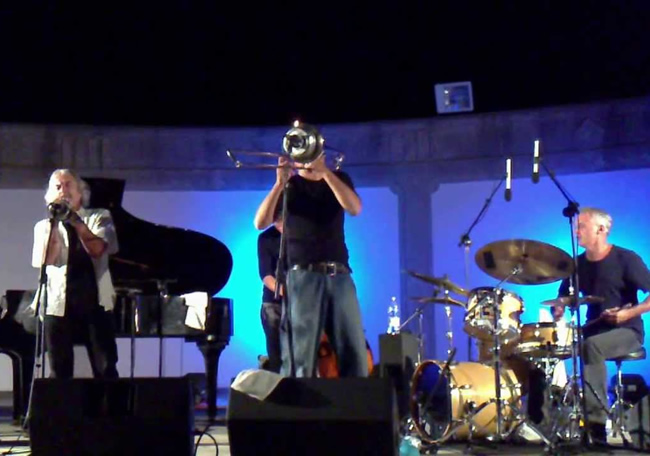 The Event
Winner of the prestigious Jazzit Award (the referendum – Readers Pool-annually organized by the prestigious Italian magazine JAZZIT which concerns the jazz practiced throughout the year on national and international territories) as "best Jazz Festival in Italy" and exclusive prizes "Best Book / Catalogue" and "Best Territory Improvement" awarded during the National Congress of cultural operators (Festival of Festivals), the PEPERONCINO JAZZ FESTIVAL, organized by the cultural association Picanto, artistically directed by Sergio Gimigliano and sponsored by Riviera Bleu Hotel, is one of the most important cultural events of Calabria. Created in Diamante in 2002 by Sergio Gimigliano and Francesca Panebianco, it was later converted into a traveling music festival in the most beautiful places in Calabria (last year 30 locations have been involved in a real "coast to coast", by "Tyrrhenian sides" to "Ionic sides", characterized by stages in the five provinces of the region and by the territory involvement of two National Parks, Sila and Pollino, belonging to the area of Cosenza), although Diamante is the location that over the years, continues to host the most prestigious concerts. Among others, performed, in the magical scenery of the Theatre of the Ruins of Cirella, stars as Sergio Cammariere, Stefano Bollani, Billy Cobham, Enrico Rava, Danilo Rea, Gino Paoli, Hiram Bullock, Horacio "El Negro" Hernandez, Paolo Fresu, Gege Telesforo, Eddie Henderson, Roberto Gatto, Stefano Di Battista, Giovanni Allevi, Bireli Lagrene & Sylvain Luc, etc. This festival, which each year hosts international stars of primary importance (stand out Brad Mehldau, John Scofield, Bill Frisell, John Patitucci, Billy Cobham, Uri Caine, Ravi Coltrane, Kurt Elling, Eddie Gomez, etc..) and the bests Italian jazz musicians, is also characterized by the discovery the enhancement of the best talents in Calabria (Roy Panebianco, Roberto Cherillo, Sasa Calabrese etc..). Not only for the undisputed concerts quality, organized in admirable locations (cloisters, archaeological parks, sanctuaries, historical centers, marinas, etc..) in order to give the viewer the possibility to visit the most beautiful places in Calabria, the Peperoncino Jazz Festival is also characterized by a series of related events – wine tasting, in collaboration with the AIS (Italian Sommelier Association), workshops, conferences, sightseeings, photographic exhibitions curated by Antonio Armentano and Francesco Cisario, etc.. – but also for leading international twinning activities (thanks to the patronage of the Embassies of the United States, Brazil and Norway) and for the inclusion in the many national premieres and original productions.
For information on the event visit the site peperoncinojazzfestival.com.